Back to Case Studies
Paul is the Operations Director at Viking Pump Hygienic, a pump manufacturer based in sunny Eastbourne. They specialise in ultra-hygienic pumps used for clean liquids like foods and medicines.
Paul wanted to future-proof his company. All their current documentation was held on a physical server in the warehouse. The software they were using hadn't been updated for about two years and they could only make small changes to it.
Given how highly regulated their business is, good documentation management is essential. Paul also wanted to make quality control and certification of pumps easier for his team. And cut as much admin time as possible.
We helped Paul by creating cloud-based software that can adapt and grow as needs change.
Staff portal
Email ingestion
Automated processes
...and more
What could we do for you?
Before Switchplane...
Paul was like you.
Their company was going from strength to strength, even during the pandemic. Factories all over the world use their pumps to move clean liquids. Nestlé and Cadbury's chocolate, Heinz and MasterFoods sauces and mayonnaise, GlaxoSmithKlein Ventolin, or vaccine injectables. Products that consumers enjoy - and depend upon - worldwide. So their pumps need to tick all the regulatory boxes.
His company was running old software. It was slow, unable to integrate with anything, and definitely not futureproof. The team worried about carrying out PC updates in case it affected the running of their system.
Viking Pump Hygienic had been using a custom system, so Paul already knew the benefits of custom software. He knew their requirements were so bespoke that they needed to design it themselves. Off-the-shelf software wouldn't cut it.
Paul needed software to allow the team and their customers to track everything. Each part of a pump, where it was produced, and the materials it contained. Then they had to match up the parts with supplier documentation. And collate all the quality control documents into a certificate pack. A big ask.
And there were ideas for much more.
So he got in touch with Switchplane.
Working with us
We built what Paul and his teams wanted.
We replicated, then improved upon, Viking Pump Hygienic's existing document management software. But we made it cloud-based. It's now available on and off-site so both field engineers and workshop floor staff can use it. It runs on our fast, secure AWS infrastructure. Plus we can easily update and extend the new software with further features.
We created a virtual email inbox to import customer addresses and certificates automatically. We've made it easier for the shipping teams to dispatch completed orders. We helped the manufacturer follow coronavirus regulations with on-site visitor check-in screens. And we've made quality control and verification processes easier across the company.
Important steps in the manufacturing workflows, addressed.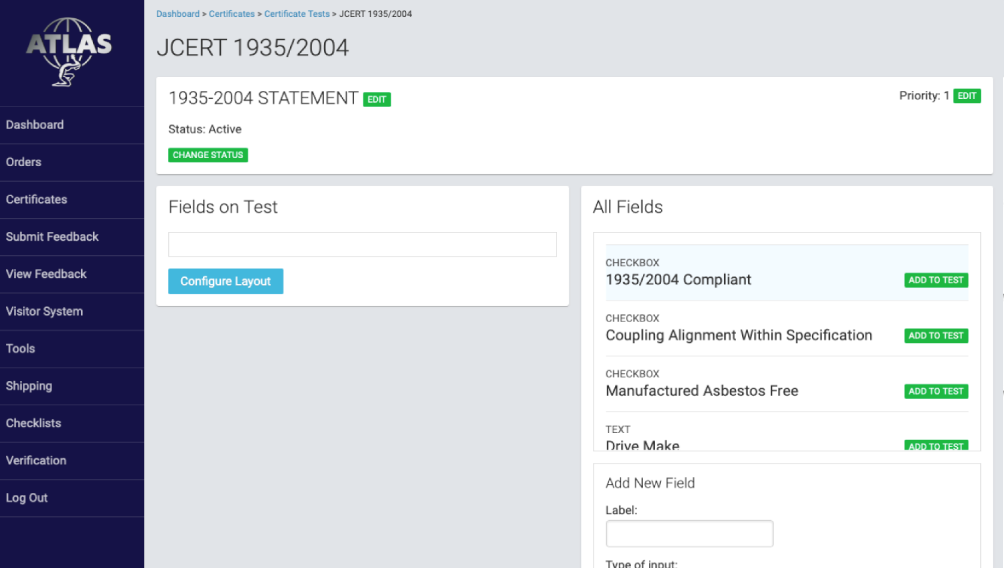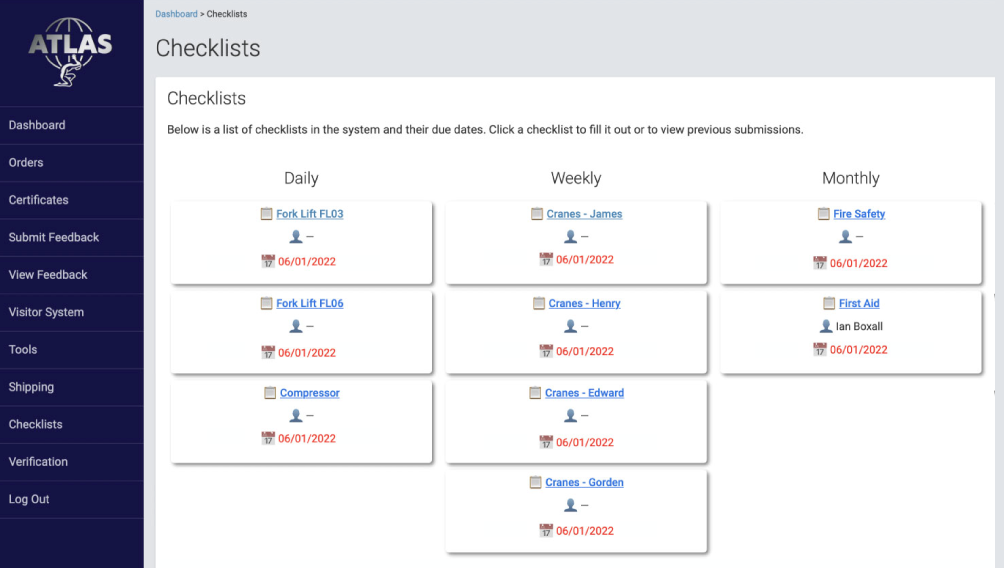 Automation at the heart of the process
No need to manually import orders
The software receives documentation emailed from suppliers to a virtual inbox. This then links incoming documentation from suppliers to relevant orders.
The software can also suck in new orders from a feed, ready for the team to work on them. It identifies the requirements for the new pump based on an 18-digit code.
No manual inputs and the customer gets exactly what they requested.
Quality control, verification and shipping workflows
To make the software do the heavy lifting
During the pump build process, workshop floor staff can add data for the components as they work on an order. The software verifies that the data falls within expected limits. Compliance staff can review this information and, all being well, mark an order as ready.
With QC passed, compliance staff generate a PDF certificate pack. This includes everything a customer needs to know about their new product: supplier information, declarations of compliance, measurements, warranty information, ISO certification, and more. The software can generate a large pack in seconds, ready for distribution to the client.
The shipping team then completes dispatch, with support from the software. It suggests box sizes for the pumps and catalogues the product and box weights. Packers can generate advanced shipping notices when required by the courier.
What would have been time-consuming manually is easy when automated.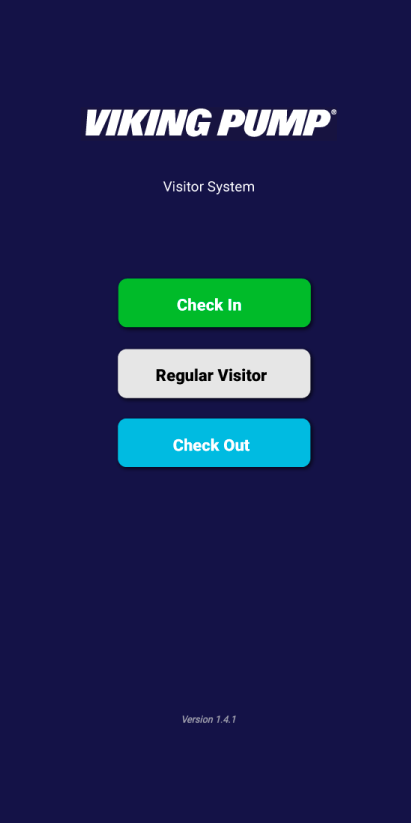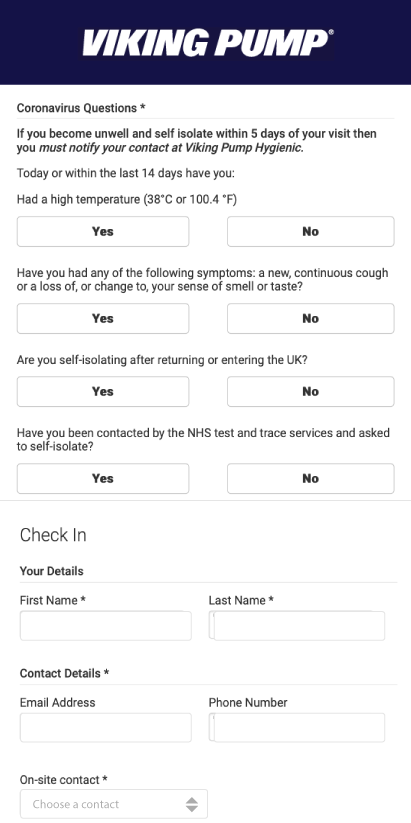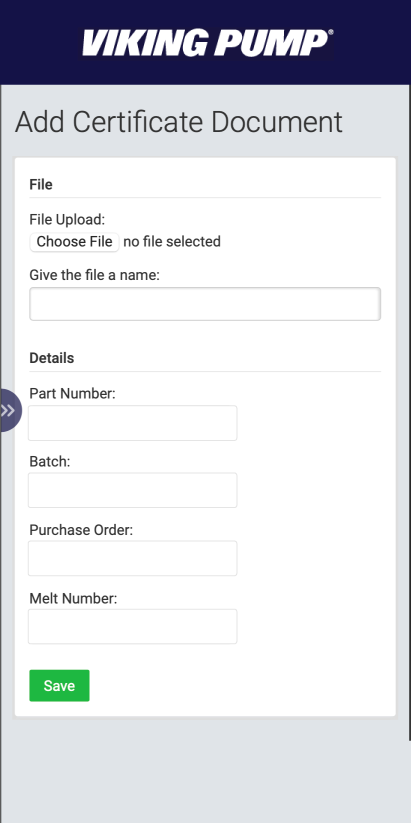 On-site safety considerations
To keep workers safe
With the coronavirus pandemic, Paul's team needed a more efficient way of knowing who was coming on site. We created a visitor check-in screen with health questions. In case of emergency, it allows any staff member to view the visitor list off-site on any device.
Viking Pump Hygienic also has checks to carry out on a daily, weekly, or monthly basis. Different team members carry out equipment, fire safety and first aid checks on a rota. The software rotates the list and reminds the team as and when needed. The team allows staff to complete and store the checks in one place, central for everyone. And removing a wall of paperwork from the workshop floor.
Any process, automated.
But don't take our word for it.
The team at Viking Pump explain how custom software has brought about improvements to their internal processes and to their customers, in their own words.
Now, how can we help you?
Are you like Paul?
We can help you future-proof your business, reduce manual tasks, and take the pain out of processes. Get in touch today.