Back to Case Studies
Darren and Georgie run a busy waste management company in the south of England. Back in 2010, Darren was struggling with the monthly schedule for his tankers. Not to mention the servicing, repairs and consultancy work that runs alongside.
He wanted to free up his time from the day-to-day running of the business. He dreamt of spending more time surfing in Cornwall, leaving Moody in Georgie's capable hands.
We helped Darren achieve his dream and run his business from afar thanks to custom software.
Job Scheduling
CRM
Mobile app
...and more
What could we do for you?
Before Switchplane...
Darren was like you.
His waste management company was growing and he wanted to expand further afield. Struggling to schedule the jobs, he knew automation could help him to get his work done a lot quicker.
Darren did consider other off-the-shelf options. But he knew that his way of running things was pretty bespoke, so it made sense to have bespoke software to go with that.
He wanted to run his whole business on one system and for his drivers to be able to record their work on the go.
So he got in touch with Switchplane.
Working with us
We built what Darren wanted.
We focused on Darren's top pain points and automated them. We created a customer database, outlining how often each site needed visiting. Then we added a job scheduling system to work out the best order to visit every customer.
We then built a mobile app for iOS devices to allow engineers to pick up their job sheets and record work on the move.
The next phase looked at automating Moody Sewage's invoicing. The portal raises an invoice when an engineer completes a job. This ties in with Kashflow, their accounting software. We also link to ViaPost, which posts hard copies to customers without email addresses.
With these essentials in place, it's possible to run the business from anywhere. Like a beach in Cornwall, between catching the waves.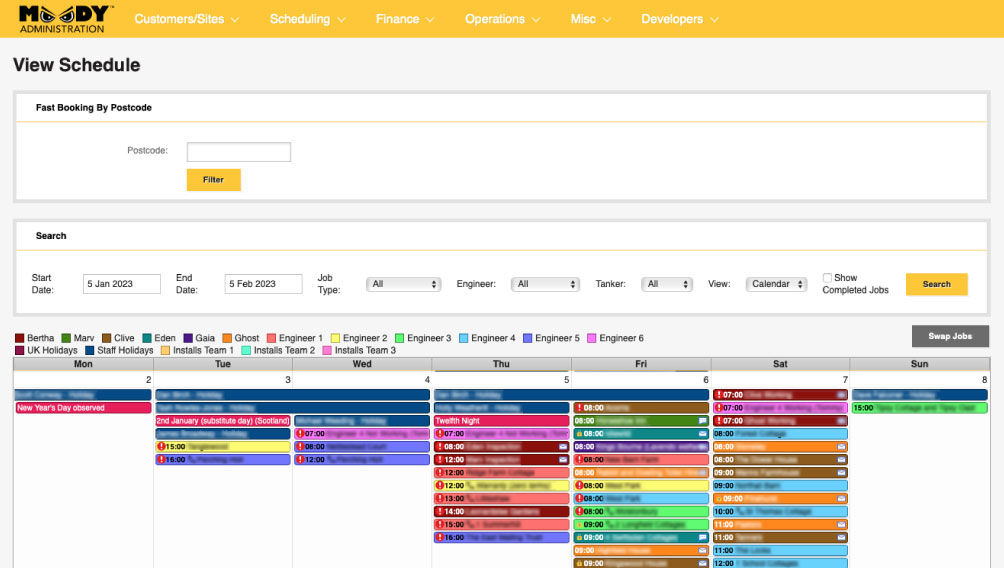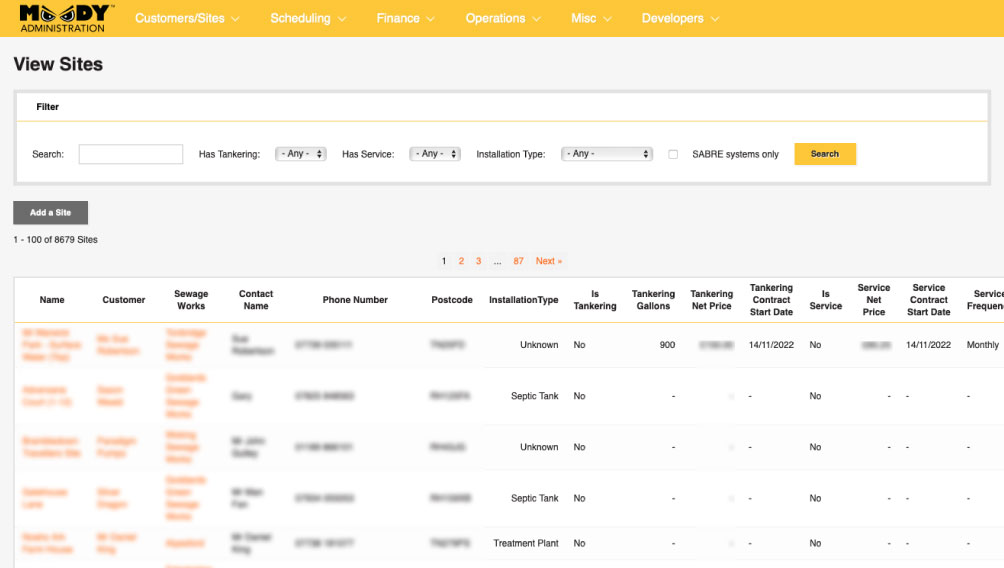 Job scheduling
Saving the distance from Brighton to Newcastle every month.
Yes, job scheduling. We mentioned it already. But we haven't got across just how cool this particular algorithm is. Let's look at all the components it considers.
The majority of Moody Sewage's work takes place on a monthly, quarterly, biannual, or annual basis. That's problem number one.
Secondly, a tanker only holds a certain amount of waste at once. So we pair sites together, depending on tanker capacity. And we assign these sites to the closest possible sewage works for emptying.
Then, the drivers need to know the most direct route between them - and where to head afterwards. Plus they can only travel a certain distance in one day.
Another catch. Visits have to happen within a certain window each month to ensure regular waste removal. If we schedule a customer's next visit much later than the previous visit, things will really hit the fan.
Multiply this by five tankers, and take into consideration staff holiday.
The algorithm we've built for Moody Sewage handles this.
Administration time saved. Driver time saved. Fuel costs saved.
No back and forth across the expansive region.
The latest algorithm tweak alone saves 350 miles, equivalent to driving from Brighton to Newcastle. Every month.
Mobile app for field staff
To view and record job data on-the-go
One app syncs with the admin team in the office.
Tanker engineers use the app to view their diaries, record site information and save job images. They can also sign off waste transfer notes and complete their daily vehicle checks.
Service engineers have a full checklist of what assessments to make at each visit.
Engineers can see where they should be and when. They have details from the office staff who have spoken to the customer. They can view any access details or site peculiarities, and see what the job involves.
After an engineer finishes a job, we pull notes and photos recorded on-site into a PDF report. Moody Sewage sends these to the customer along with their invoice.
Vehicle checks enable administrators to monitor vehicle health, mileage, fuel consumption and defects. They can also record how they rectify any issues.
All the information the engineers need is in their pocket. All the information needed by office administrators comes back to them. Aka, waste management made easy.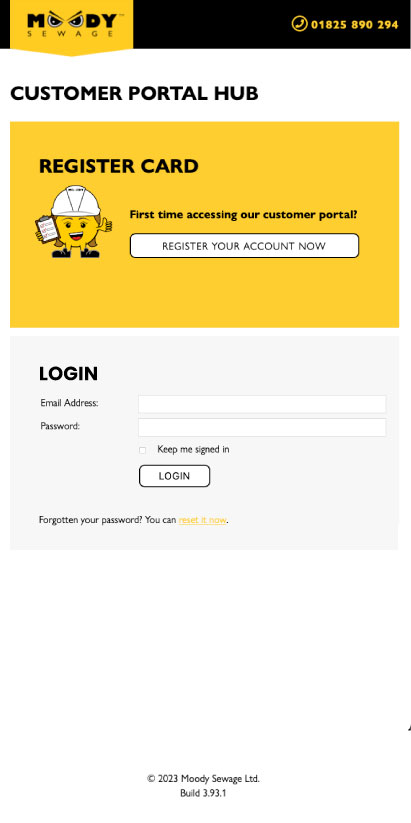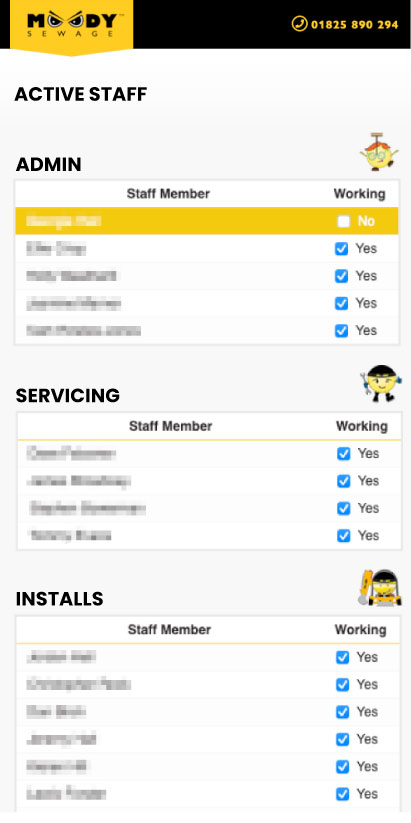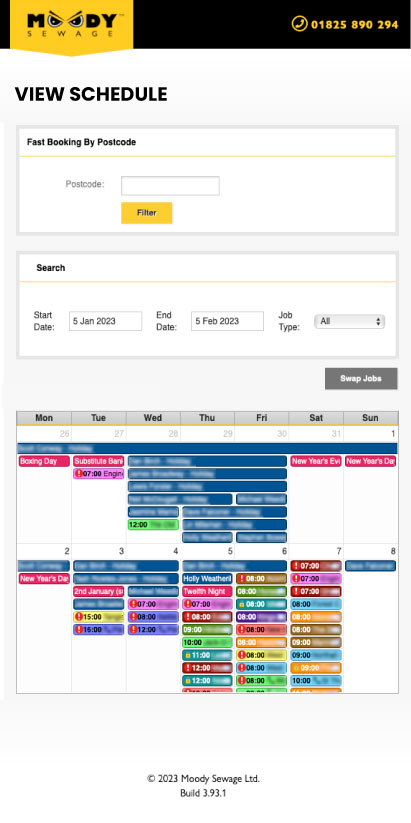 A smart business portal
To save Georgie and her office staff time.
Since tackling the original scheduling issue, the Moody Sewage portal has expanded. We make changes to meet Darren and Georgie's business management requirements.
All customer and site information is in one place. Administrators can set up direct debits, make repeat payments and see historical jobs and invoices. A telephone integration means they know who is calling before they pick up. All in all, this means excellent customer service.
Financial integrations mean the portal talks directly to Moody's accounting platform. Invoices are easily raised and recorded. The system handles aspects of payroll. Debtors and aged debtors flag up in a report. Georgie can review and analyse her management accounts.
Administrators and sales staff track incoming leads via the portal. The sales team is clear on who needs follow-up consultations. There is visual reporting on sales activity, meaning the team is paid appropriately and team members can set themselves goals.
The portal provides Darren and Georgie with all they need to make smart business decisions.
Sales, financials, customer details, marketing reports: all at the click of a button.
Now, how can we help you?
Are you like Darren or Georgie?
We can help save you time as a business owner so you can manage your business exactly how you want to.