Back to Case Studies
Andy runs a busy motorhome hire company and has a large fleet of luxury motorhomes and campervans for holidays in the UK and Europe. If you ever go to Glastonbury and want to hire a motorhome, Andy is your guy.
Andy wanted the business to move away from paper-based and legacy systems. Getting rid of repetitive, error-prone manual tasks for his staff was a high priority. As well as binning off those dreaded spreadsheets. Andy dreamt of efficiency for both his staff and his customers.
We helped Andy by creating a comprehensive platform. A CRM, bookings and fleet management, a customer-facing portal and a workshop app. Together, these free up time for better customer service and handling more enquiries. The best part: every piece of software we built talks to all the others. No more duplication.
CRM
App
Customer portal
...and more
What could we do for you?
Before Switchplane...
Andy was like you.
His motorhome hire company was growing. His fleet was expanding, along with his bookings.
Staff found themselves swamped with admin work: keeping vehicles road-legal, chasing payments, and providing customers with relevant motorhome information. All whilst maintaining the excellent customer experience they pride themselves in.
Andy's team had been using an off-the-shelf piece of industry software, but it wasn't meeting their needs. They had too many aspects that were unique to their business.
And of course, where the software didn't meet their needs, there were loads of workarounds. Endless spreadsheets. Paper booking forms. Paper vehicle checks. Everything required manual admin time to process. Andy knew things should be better.
So he got in touch with Switchplane.
Working with us
We built what Andy wanted.
We replaced the key functionality of his existing off-the-shelf software. Then we killed off spreadsheets and paper documentation, one by one.
Email automation to customers was a top priority. It took a lot of admin overhead to send the correct information at the right time. We cut out all of those repetitive, manual mailers.
Key features in place, we've since looked at the management of vehicles. A customer portal now enables hirers to enter their own details and book optional extras, increasing sales. And workshop staff now use an app to help them maintain and turn around vehicles for their next hire.
This one-stop platform means increased efficiency for Andy's team and customers.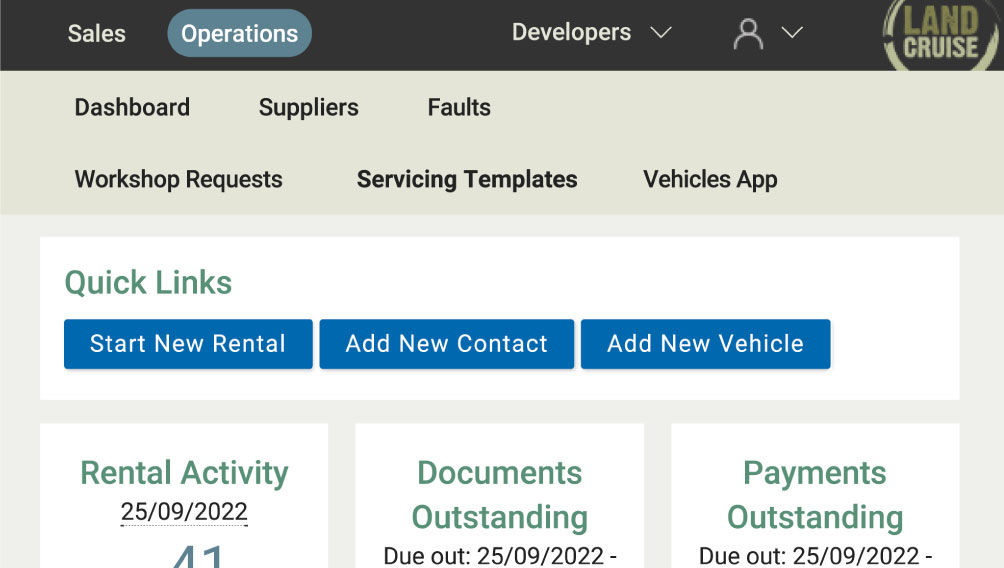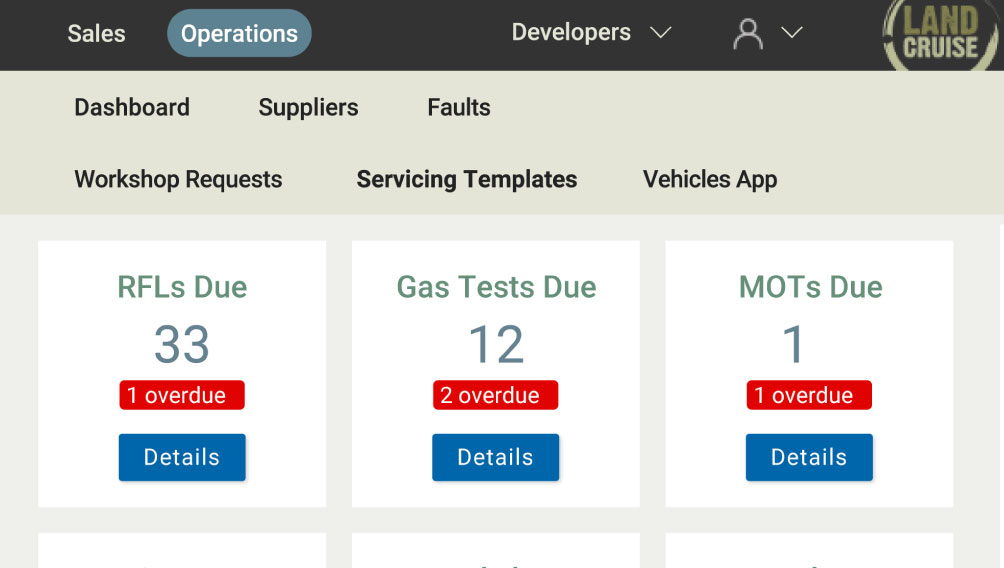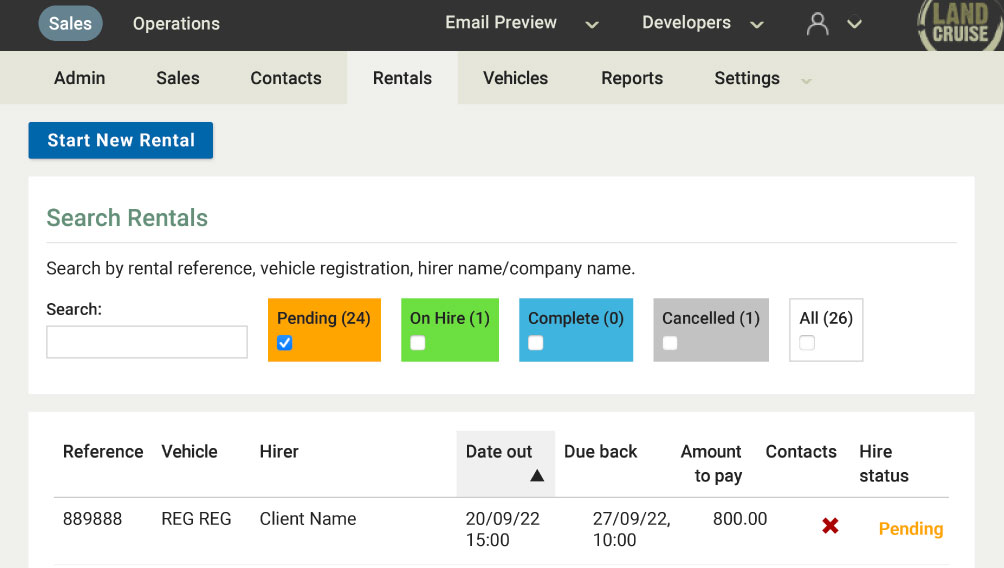 Bookings management made easy
To improve customer experience and make staff lives easier
Andy's new custom platform allows the team to manage motorhome bookings from enquiry to return of the vehicle. Plus, it tracks all email communications sent for a rental.
Staff have a dashboard to review everything needing attention on a daily basis. Rental activities, outstanding documentation, payments, customer data and requests for optional extras. They have actionable tasks and workflows to manage the day-to-day business.
Andy's team can track the vehicles owned by LandCruise. Mileage, legal expiry dates, service documents. All are stored against a vehicle so the team can provide a full history when it comes to the sale of that motorhome.
Everything is now digitised, all in one place.
Time saved in collecting customer data
To make the process smoother for staff and customers
The team sends customers access to their own portal area to manage their details. The system then sends time-sensitive prompts to customers. This makes gathering licence information, requesting payments and collating missing details much easier.
In return, customers access videos about their vehicle and information about driving abroad.
We've eliminated significant admin and customer time through automation. Everyone has the information they need, when they need it.
An app for those on-the-go
To power up communications between teams
Getting information between the workshop and office teams has historically been a nuisance; the teams are spread across a large site. Popping over to the workshop meant time away from sales and customers. But it's common that information travels between the teams to prepare a vehicle for rental.
To make this easier, we created an app for tablets and phones. Workshop staff use the app to check in a vehicle and track the cleaning and preparation process. They then mark the vehicle as ready. Office staff back in the office know the up-to-date status of a vehicle when the customer arrives for pick up.
The app has also helped to get rid of paper-based servicing. It records mileage, damage, and damp checks, as well as service checks on all areas of the vehicle.
A win for efficiency.
Now, how can we help you?
Are you like Andy?
We can help you make your business more efficient. We'll save your team hours of admin time, so your staff can focus their energy where it really matters.